METEORS - The Curse Of Blood N Bones LP RED VINYL
At long last - part 2 of the special double album from psychobilly legends The Meteors available is now on vinyl!
Founding vocalist/guitarist P. Paul Fenech continues to smoke any and all of their punk/rockabilly peers with a mixture of thrilling instrumentals and memorable original cuts as well as superb covers! Limited edition RED vinyl!
1 All I Do
2 The Queen of Zorch
3 All I Can Do Is Cry
4 Creature
5 Haunted
6 She's My Witch
7 Daughters of the Deep
8 Alligator Man 2020
9 Guilty As Charged (Sense of Humor Mix)
10 You Used to Be (The Usual Suspects)
11 Little Hellcat
12 (Ghost) Riders in the Sky
See also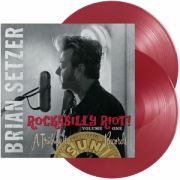 "Why should I record a tribute to Sun Records? And at that, narrowing in on only their rockabilly years... a narrow time frame...