QUEEN - Greatest Hits 2LP
A1 Bohemian Rhapsody 5:54
A2 Another One Bites The Dust 3:36
A3 Killer Queen 2:59
A4 Fat Bottomed Girls 3:21
B1 Bicycle Race 3:02
B2 You're My Best Friend 2:51
B3 Don't Stop Me Now 3:29
B4 Save Me 3:48
C1 Crazy Little Thing Called Love 2:43
C2 Somebody To Love 4:55
C3 Now I'm Here 4:13
C4 Good Old-Fashioned Lover Boy 2:54
D1 Play The Game 3:31
D2 Flash 2:47
D3 Seven Seas Of Rye 2:48
D4 We Will Rock You 2:01
D5 We Are The Champions 2:59
Katso myös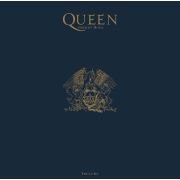 A1 –Queen A Kind Of Magic 4:24
A2 –Queen & David Bowie Under Pressure 3:56
A3 –Queen Radio...
1. Funeral for a Friend / Love Lies Bleeding 11:11
2. Candle in the Wind 3:51
3. Bennie and...
A1 Death On Two Legs (Dedicated To ...)
A2 Lazing On A Sunday Afternoon
A3 I'm In Love With...