Topi Sorsakoski - Yksinäisyys osa 2 LP INDIE ONLY LTD 200 KPL
* Ensimmäinen vinyylipainos
* 200 kpl numeroitu painos
See also
2nd HAND SWAMPin tuote...
1. Over the Mountain
2. Flying High Again
3. You Can't Kill Rock and Roll...
Crystal clear vinyl, gatefold sleeve, limited to 400 copies Silver Flame
Perfect Storm
A Song...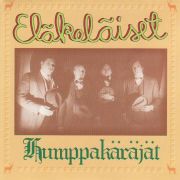 1 Pöpi 1:40
2 Kipin Kapin (Mä Riennän Alkoon) 1:38
3 Niilo Yli-Vainio Tervasi Potkukelkkani Jalakset...
A1 En kerro kuinka jouduin naimisiin
A2 Ei tippa tapa
A3 Tositarkoituksin
A4 Raha...
LP1: Alkuperäinen 12" LP-julkaisu: Eteenpäin! LP 202, IN MEMORIAM (1967). A1. M.A.NUMMINEN ja VARUSMIESKUORO: Jenkka hevosen puhdistamisesta (1:39) A2. TOMMI PARKO...