TASAVALLAN PRESIDENTTI - Live in Lambertland 2CD
A1. CELEBRATION OF THE SAVED NINE / THE BARGAIN (13:00)
A2. LOUNGE (12:36)
B1. LAMBERTLAND (8:08)
B2. DANCE (14:19)
C1. THE BARGAIN (13:40)
C2. RAMBLIN' (11:52)
D1. LAMBERTLAND (6:20)
D2. DANCE (9:55)
D3. CELEBRATION OF THE SAVED NINE (9:23)
EERO RAITTINEN – vocals and percussion
PEKKA PÖYRY – soprano and tenor saxophones, flute, organ and backing vocals
JUKKA TOLONEN – electric guitar
MÅNS GROUNDSTROEM – electric bass
VESA AALTONEN – drums
All recordings produced and recorded by the Finnish Broadcasting Company (Yle).
A1 to B2 recorded at Esplanadikappeli, Helsinki, August 17, 1972.
C1 and C2 recorded at Kulttuuritalo, Helsinki, September 4, 1972.
D1 to D3 recorded at Natsa, Helsinki, July 10, 1972.
See also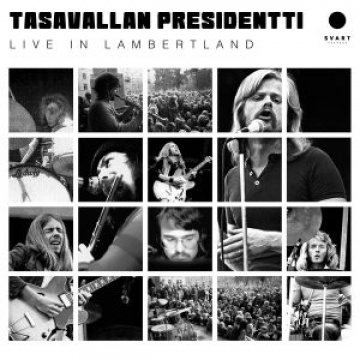 A1. CELEBRATION OF THE SAVED NINE / THE BARGAIN (13:00)
A2. LOUNGE (12:36)

B1. LAMBERTLAND...