MUMMI KUTOO - Mummi kutoo 2LP Svart Records
A1 Melkein Kymmenen Vuotta 3:20
A2 Matias 7 V. 3:00
A3 Hevoslaulu 1:50
A4 Tiernapoika 3:08
A5 Lempo Soikoon 0:51
A6 Kuoleva 2:24
A7 Toijala Mielessään 4:15
B1 Pakenee Pienet 2:24
B2 Spelman (Och Spel) 2:06
B3 Unelmia 3:43
B4 Köyhä 2:52
B5 Terveisiä 2:42
B6 Tarkka-ampuja 3:01
B7 Oodi Unelle 2:07
Thee reissue is expanded with a full LP of unreleased material from the band's demo archives. Carefully picked and remasterered for vinyl, these 18 tracks date from the era after the first album. The band had plans for a second album and demoed their new material extensively, but Love Records went bankrupt before studio sessions could take place.
Black vinyl LTD 300 Copies
Katso myös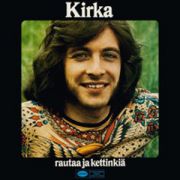 A1 –Kirka & Islanders* Yeah Yeah Yeah 3:43
A2 –Kirka & Islanders* Daniel 3:50
A3 –Kirka...
A1 458 R.T. 6:52
A2 Day Is Over 2:17
A3 New Day 3:42
A4 Playtime 4:18
B1...